This soil-derived daily wellness supplement supports the foundation of your pet's health. It utilizes our innovative fulvate formula to diversify the microbiome and strengthen the gut lining, defending against environmental toxins while improving nutrient absorption. All-natural and backed by science, ION* Gut Support For Pets promotes healthy digestion and boosts immune function – because pets need support, too.
Regular price
$52.00 - Buy Once
Regular price
Sale price
$52.00 - Buy Once
Unit price
per
Sold Out

View full details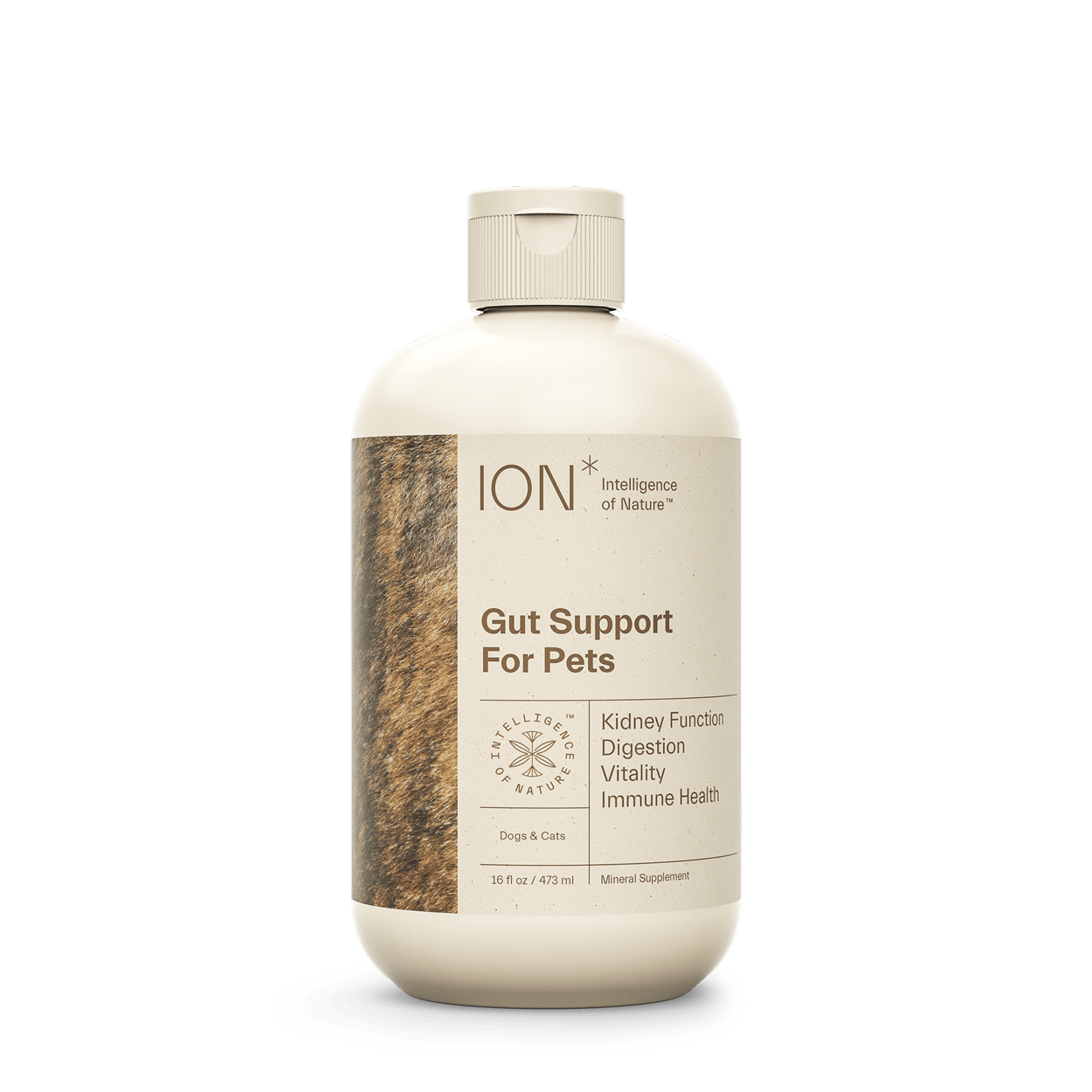 All-natural and backed by science, ION* works at the foundation of health so your furry family member can thrive. 
Kidney Function

The lining of the kidney can be damaged by food toxins, herbicides, and pesticides (much like the lining of the gut), ION* is proven to strengthen RPTs (Renal Proximal Tubules), the important barrier cells of the kidney that help not only to filter but act as a barrier between blood and waste products.

Digestion

Going beyond the function of probiotics, ION* seals cells in the gut lining to strengthen the terrain upon which the microbiome can diversify and thrive. Ancient soil-derived fulvate helps tight junctions to keep toxins out while improving nutrient absorption and hydration. With tight junctions intact and a strong gut lining, ION* helps to reduce gas and bloating while supporting optimal digestion.

Vitality

Humic extract from ancient soil (rich in beneficial bacterial metabolites) is at the heart of ION* Gut Support For Pets. By reawakening 60-million-year-old soil carbons frozen in time, we reconnect your pet with their inherent vitality. 

Immune Health

When the gut can function as it was created to, there's a cascading positive effect for the rest of your pet's body. Tighter cellular junctions mean a better terrain for the microbiome to diversify, meaning a better environment to support good gut bacteria, and more good gut bacteria mean better immune response. A stronger gut also means less toxins and inflammatory particles getting through that can spark an immune response. A strong gut lets the good stuff in and keeps the bad stuff out.  
ION* Featured in:
Level up your
pet's wellness
The best way to ION*:
In an easy-to-use liquid formula, add ION* to your pet's water bowl or straight up, by using a syringe, administering gradually via the corner of the mouth. Pets can drink ION* Gut Support For Pets before, during, or after a meal. If you feed twice daily, you can split the following doses in half and provide twice daily.
Daily Dosage by Weight:

<20 lbs: 1 tsp (5 ml) daily
21 lbs to 100 lbs: 2 tsp (10 ml) daily
>101 lbs: 1 Tbsp (15 ml) daily
A simple liquid supplement with
results your pet will want to
meow from the mountain tops...
"She is happy, healthy, and as playful as ever!"
"Stella had some intestinal infections as a puppy. I decided to try ION* Gut Support for Pets for her because I wanted to restore her gut after treatments."
— Dr. Rojo
Simple, natural
ingredients
ION* goes beyond probiotics and prebiotics. Your pet's gut naturally needs thousands of times more species of bacteria than the few strains found in a bottle of probiotics. ION* Gut Support For Pets is specially formulated for cats and dogs to allow for natural diversification of the gut microbiome, supporting their health at a foundational level.
Humic Extract (Fulvate)

Our humic extract is US-sourced from ancient soil (roughly 60 million years old!) and contains a blend of bacterial metabolites (fulvate) as well as less than 1% of a variety of trace minerals and amino acids. 

Fulvate is a unique family of carbon molecules with oxygen-binding sites that are produced by bacteria when they digest nutrients. These molecules are the backbone of the ION* blend, standing apart from fulvic acids in an alkaline state. By keeping fulvate in its natural state, ION* better facilitates electron transfer, helping with critical functions like nutrient absorption, chelation of metals, and tight junction integrity.

Purified Water

No chlorine. No gnarly chemicals. Just the finest purified water to support a healthy and thriving pet.

Silicon

Supports collagen production as well as skin and bone health.
Proven by science
ION* has been scientifically proven to strengthen the gut lining by sealing cell junctions, even in the presence of harmful toxins. This helps to combat leaky gut, thereby protecting the immune system, improving digestion, and supporting a healthy microbiome. Learn More
Drag the slider to see the difference between a strong, healthy gut lining (connected lines show tight junctions that are intact) and a gut lining compromised by toxins (gaps between cells indicate leaky gut).
ION* is the intelligence
of nature at work.
"A new foundation for human health."
"I ended my career in hospital medicine and started the pursuit of understanding nutrition and ultimately, our food systems, in an effort to find a root cause solution to the chronic disease epidemic. This led me to found ION*, an all-natural wellness product to provide a new foundation for human health."
Why ION* Gut
Support For Pets? 
From food toxins to herbicides and pesticides, your pet is likely to encounter environmental insults daily, causing leaky gut, inflammation, poor nutrient uptake, and even allergies.
Learn More

An unhealthy gut can have a cascading effect throughout the body. Given the number of symptoms, conditions, and diseases that chronic inflammation is responsible for, it's clear that maintaining your pet's gut health is vital to their overall health.

The modern-day causes of prevalent gut and health issues include overprescribed antibiotics, glyphosate damage, and toxins in food. Rather than address a specific condition with a narrowly-targeted supplement, ION* Gut Support For Pets takes a holistic approach and helps maintain the strength of the immune system to create an environment that supports the whole body – head to tail.
Directions for use:

Shake Well. Ideal application is by syringe (no needle) in the corner of mouth (not squirted in – but gradually dispensed). You can also pour ION* Gut Support For Pets into one-quarter cup of dechlorinated water.

Pets can drink ION* Gut Support For Pets before, during, or after a meal and still receive benefit. If you feed twice daily, you can split the following doses in half and provide twice daily.

For pet weight:
<20 lbs: 1 tsp (5 ml) daily
21 lbs to 100 lbs: 2 tsp (10 ml) daily
>101 lbs: 1 Tbsp (15 ml) daily

Sensitive Usage:

Starting with 1/8 teaspoon of ION* Gut Support For Pets, once a day, can be a good introduction. Double the usage weekly until your pet is fully benefitting from the recommended usage for their weight category. Give at mealtime or twice daily in one-quarter cup of dechlorinated water.

Please note: These usage schedules are for canines and felines. ION* Gut Support For Pets has not been tested in the equine environment.

What is ION* Gut Support For Pets and what does it do?

ION* Gut Support For Pets is a liquid supplement that supplies the first line of defense against everyday exposure to environmental and food-borne toxins. It is an all-natural humic extract derived from ancient soil.

The gut lining is a barrier working to protect your pet from toxic substances such as glyphosate, gluten, and other foreign particles. But just as importantly, it functions to allow the passage of beneficial nutrients. Preserving the integrity of this barrier is key to health. Instead of feeding the microbiome with various bacterial strains, as you would get from a probiotic, ION* Gut Support For Pets works via redox signaling to maintain tight junction integrity in the epithelial layer of the gut lining.

ION* facilitates nutrient absorption, promotes kidney health, and helps with the inflammatory response promoting immune function and alleviating environmental allergy sensitivities.

How is ION* Gut Support for Pets different from the human ION* Gut Support formula?

ION* Gut Support For Pets is specially formulated for canines and felines and includes silicon. Silicon, not commonly found in pet food, supports structure in the body from the cellular level to the muscular-skeletal level. It is an essential element for healthy connective tissues, especially in the bone and cartilage of animals.

Is ION* Gut Support For Pets available via subscription?

Yes! Our 16oz bottle of ION* Gut Support For Pets is available at 15% off through our ION* membership. Join now and save!

Yes! Our manufacturing and quality control teams adhere to all the FDA's current Good Manufacturing Practices (cGMPs), and do regular testing on ION* Gut Support For Pets for bacterial contamination, heavy metals, and overall product composition.

Further, third-party testing has shown ION* to be non-toxic on sensitive kidney cells, even at very high concentrations.

Our pet product is also a proud member of the National Animal Supplement Council (NASC) and has been through several rigorous audits to maintain our seal usage.